Relive the NSA 2010 Annual Convention Twitter-Style!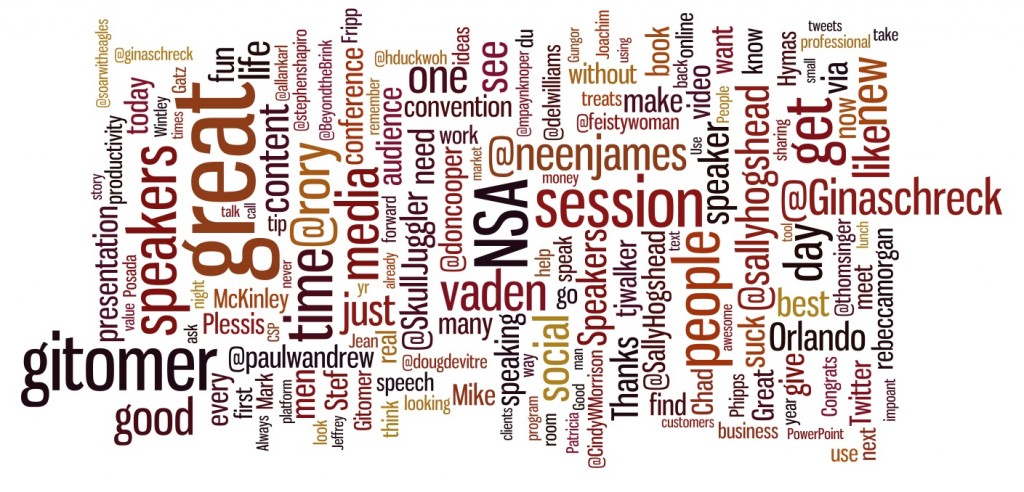 Wondering what you missed at the National Speakers Association's 2010 Annual Convention in Orlando? Or maybe you were there and you just want to re-live it?!
Now you can "Relive #NSA10 — Twitter Style"!! That's right… We've collected all 2,937 tweets with the #NSA10 hashtag between July 17-21, 2010 and assembled them in a 229-page e-book. Get your free copy, packed with energy, quotes and helpful links, by entering your name and email address below:
In the meantime, here are a few of the highlights from the #NSA10 hashtag on Twitter:
July 17:
goldasich: RT @Motiv8er: If U are an NSA VIP ( newbie) to the conference- figure out a goal for the conference- you will get more out of it! #nsa10
Ginaschreck: If you are a content provider-change content from all text to mixed digital format. Add in short video-3D graphics-audio! #nsa10
SuzanneGerety: Great chat with @Hyken at #nsa10 about hockey, fave apps for the iPhone and speaking events…great conversation. Lots of fun ahead!!
LiveYourBrand: #NSA10 #Branding tip: When networking, instead of sharing "What you do" share the 1) problems you solve & 2) benefits of working with you.
soarwitheagles: Nido Quibein: What you choose is what you get. Your beliefs drive your behaviors. Your behaviors drive your results. #nsa10
MarianMadonia: Leaving sunny hot and humid Kansas City for sunny hot and humid Orlando for #nsa10. Good thing the convention is always good. 🙂
doncooper: "When you ask for feedback, be willing to hear the answers."-Shari Harley #NSA10
DaveLieber: My book printer – the best – from Friesens – are at #NSA10 booth #2 … Coral Gates and Paul Clbulka http://twitpic.com/267izu
SellingChange: Just ran into fellow sales authors @jillkonrath & @thesaleshunter #NSA10 Listen to Jill's interview on my radio show http://bit.ly/aaOAq4
TheFrontDesk: RT @Ginaschreck: People filing in for the opening session here at #nsa10 http://twitpic.com/268xjh
omekongo: "You don't have to compromise to be recognized." Wintley Phipps #motivation #nsa10 #liveyourbestlife
July 18:
MediaJess: Brad Barton speaking at #NSA10 "You don't need permission from anybody to be great."
pantsbot: RT @dougdevitre Can't wait to demo on the audience RT @allankarl: @dougdevitre looking forward to your 'pants on fire' presentation #nsa10
BertVerdonck: Starting early at #nsa10 Curious what the day will bring.Certainly inspiration, visibility & networking 🙂
preciseselling: Today I will be teaching fellow speakers how to turn their DVDs and powerpoints into online courses at my Expert Delivery booth. #nsa10
MeetingMaximize: Gear up for Speakers Corner. Its your turn to talk. #NSA10 http://www.youtube.com/watch?v=baV4TI-30RA&feature=player_embedded
allankarl: "if you don't get measurable return from #nsa10 it's your fault." Chris Clarke-Epstein.
Rickun: RT @Ginaschreck: Husband test to see who loves you more..wife or dog. Lock both in trunk for2 hours open & see who's happier to see you. #nsa10
dougdevitre: Start your own Conduit toolbar at http://conduit.com #NSA10
doncooper: "The more directly what you sell relates to sex, happiness or money, the higher your fees can be."-Robert Bradford #NSA10
soarwitheagles: RT @Ginaschreck: Trend right now is smaller meetings. If your market is one that is shrinking its time to shift! @robertbradford #nsa10
hduckworth: #nsa10 Are you the spice or the core dish? Your fee will be influenced by this. You want to be the core dish. Robert Bradford
DaveLieber: LinkedIn a bit of a mystery for me. Appreciating @ShawnDoyle presentation at #NSA10. He created Motivation Nation. I run WatchdogNation.com
Ginaschreck: Focus…what are you REALLY an expert on? #nsa10
bigkid: #nsa10 John Gray's first book was called Men, Women and Relationships before calling it "Men are From Mars, Women Are For Venus"
mpaynknoper: "Maybe the best thing speakers can do is off the platform…" – Chad Hymas' #NSA10 So true.
CindyWMorrison: RT @alisonrbcm: RT @hduckworth: #nsa10 Find ur island of profitability.. maximize the areas u rock & minimize ur suckiness. Robert Bradford
omekongo: "Life's too short to work for money." Chad Hymas #nsa10
soarwitheagles: Some speakers at #NSA10 attend in character or wear their branded apparel. Seen Will Rogers, Forrest Gump, Ben Franklin, & Doctor Finance.
sallyhogshead: "If you want to reach the next level of speaking: Must score 4.6 on 5 pt scale within fee range." #nsa10
TeamsRock: Are you doing the right things at the right time EVERYDAY? Find your peak time morning or night & do the right things – Neen James #NSA10
ButterflyHerder: RT @delwilliams: RT @TheSalesHunter: #nsa10 your social media strategy must be ethically driven
Ginaschreck: HEY #NSA10 What is UN? UNbeleivable-UNconventional-UNconference coming Feb 18 2011 Atlanta #nsaUN BE THERE!
cheshirelad: RT @sallyhogshead: Genius: "Success is never owned. It is only rented. And the rent is due every day." ~ @rory_vaden on social media #nsa10
July 19:
SmartBrief: RT @SallyHogshead: "You don't have to be the creator of great content any more; you have to be the *conduit* of it." ~ @rory_vaden #nsa10
CoachJennie: Well put!!! RT @rebelbro …….#NSA10 "So many fabulous people & lessons to be learned. I'm energized & exhausted!"
isabelhershey: RT @rory_vaden: Get your Facebook out of MySpace you Twit before we get Linked In and I Flickr you into a YouTube that no one will StumbleUpon #nsa10
BeyondtheBrink: Use the advanced search function in LinkedIn 4 prospects @rory_vedan #nsa10
preciseselling: There is too much focus on social media among pro speakers. Does this tweet make me a hypocrite?!!! 😉 #nsa10. Think online training!
1000cranes: #nsa10 When you're blogging, keep them short. Don't have a "toilet paper page" have a "read more…" link instead. 🙂
CoachJennie: I'm meeting some really amazing people at #nsa10 that I'm so excited to now call colleagues! I have come home! 🙂
allankarl: How do you help the most people as possible? Love what you do. Joachim de Posada #nsa10 follow the heart not the mind.
JonoDenton: RT @paulwandrew: "Go through the pain of discipline now, or later in life you will suffer the pain of regret" Joachim De Posada #NSA10
CAMPUSPEAK: "We hired you for the fun, we paid you for the content." – a great reminder for speakers from Mike McKinley at #NSA10.
Ambicionz: Just had a fabulous conversation about how a VA can help with Product Launches and Affiliate Marketing! #NSA10
WorldRider: Nice to see and meet face to face Gail Davis from @GDASpotlight at #nsa10 – one of the great bureaus that I work with.
bookmidwife: Social media is the new cold call #gitomer at #nsa10
tracykennard: Free and spread your message through social media. Via @bethemedia #nsa10
July 20:
JanVermeiren: RT @soarwitheagles: I miss Dale Irvin's recaps at #nsa10 meetings. Know he's edgy but he's OMG funny. Bring him back next year?
Lori_Randall: I agree 100%! @SallyHogshead: "Stop trying to be professional. Start having fun." #gitomer #nsa10
carrieferenac: I spent time at #NSA10 today at Marriott's World Center in Orlando. Incredible energy at the show! #eventprofs
larrychiang: How to Work A Conference http://tinyurl.com/Lar22 #nsa10
charlynshelton: The best story of authenticity..Chad Hamas…More on Authenticity http://bt.io/Fetr (via @backtype) #nsa10
BertVerdonck: Wise Words: "End your story with humour" Jean Gatz #nsa10 #quote
introvertleader: RT @SHERYLROUSH: RT @allankarl: Rehearsal is the work. Performance is the relaxation. Michael Caine. #nsa10
GetResults: @elizabethfb The Cigar PEG is always a "must do" when at NSA – GR8 people, GR8 causes, wonderful energy – wish I was there #nsa10
kate_holgate: Surprised in the #nsa10 #gitomer session that more people aren't using his @aceofsales software program. You sell? Use www.aceofsales.com
ronkarr: RT @DonCooper: "It's what speakers do OFF the platform that makes them great."-Chad Hymas #NSA10
maruti_ferrari: RT @WriteAdvantage: RT @DonCooper: "PowerPoint is a presentation tool, not a presentation maker."-Jeffrey #Gitomer #NSA10 Well said!
WeScribeIt: RT @SkullJuggler: Transcribe your speeches and go through them critically. Circle unnecessary words and get rid of them! #nsa10
BrightIdeas4You: RT @MediaCoach: Monday video tip features @tjwalker at #nsa10 with tips on book promotion http://tinyurl.com/2w4nz7c
goldasich: If you don't attach your own oxygen mask first, you're worthless to anyone else. ~ Stef du Plessis, CSP #nsa10
SandyAWilson: "The harder the conflict, the higher the triumph" Thomas Paine per Phil VanHooser at #NSA10 #quote via @mpaynknoper
SHERYLROUSH: RT @stevespangler: I'm really excited that @carlyreed (my great manager) is presenting her first session at #nsa10 sharing secrets for managing an speaker.
wanderingalan: RT @scottmckain: I think #NSA10 is our all-time best collection of keynote, main stage speakers. maybe NSA can share them like TED confs do
PamGilchrist: A thousand followers does not make you a guru #NSA10
davebrown_SWC: RT @Ginaschreck: When asked "How do you find time for twitter/FB etc?" Ask how many hours they watch TV. Are you consuming or contributing? #nsa10
delwilliams: RT @paulwandrew: "The measure of a great man is not how he treats great men, but how he treats small men" Stef Du Plessis #NSA10
doncooper: Congrats to Mary LoVerde-new inductee into the CPAE Speaker Hall of Fame! #NSA10
bsobel226: RT @allankarl: You don't try to be authentic, you are authentic. Or you're not. – Mark Scherenbach #nsa10
What do you have to say about the NSA 2010 Annual Convention? Leave a comment below — and make sure you get your free e-book by signing up above!