"But I Want To Be A Speaker":
You Can Start Today
Do you frequently find yourself saying, "I'm a ______, but I want to be a professional speaker/author/guru"? If so, this blog post is for you!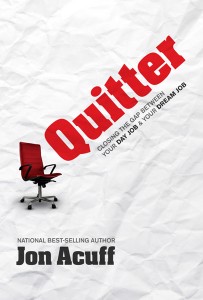 I recently spoke with "serial quitter" Jon Acuff about his new book, Quitter: Closing the Gap Between Your Day Job and Your Dream Job, and asked him to share some tips on how you can get started now — even if you're not ready to submit your resignation letter. (As a matter of fact, you might be surprised to learn that the first chapter of Quitter is actually titled "Don't Quit Your Day Job.")
Listen to our conversation below and you'll learn:
How you can start building your speaking business while you're still working full-time
Why quitting today can actually prevent you from pursuing your dream
Why money must not be your driving passion… but what will fuel your success for life
Is it okay to use notes when you speak?
Who is the "surprise boss" you'll meet the second after you quit your day job?
Jon has been right where you are… and it wasn't all that long ago! He was working a 40-hour-a-week job he didn't like so he could pursue his dream job on the weekends. Now, he's a published author and member of the esteemed Dave Ramsey Speakers Group. Listen now and he'll tell you how he made the transition (so you can, too!):

Next steps: