A Twitter Lesson from Ryan Seacrest
Following up on yesterday's post with 10 ways speakers can use Twitter in their speaking business, check out a couple of recent tweets from Ryan Seacrest, host of American Idol: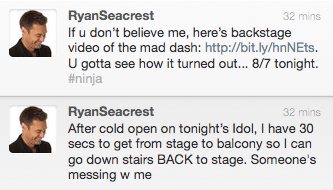 If you follow that link in his tweet, you're taken to this post on his site which has the video clip and says:
Watch how it all goes down being the host of "American Idol" as Ryan has to make a mad dash after the 'cold open' to the top of the Idol staircase–in less than 30 seconds!

Ryan also takes you into his trailer, where his stylist Miles Siggins makes a wardrobe alteration–with hand scissors!

Check it all out below and tune in tonight to see the top 13 perform songs from their favorite artists!
Here's the video:

Fun, huh?
Try giving your Twitter followers some VIP treatment and take them backstage just before your next speech — whether it's just sharing a photo via TwitPic or actually posting a quick video on your blog. Then, come back here and let us know what kind of reaction you get!