Does your speaking business
need a marketing boost?
Then I'd like to help… by giving you 21 days of access to the Succeed Speaking Marketing Power Pack for just $1!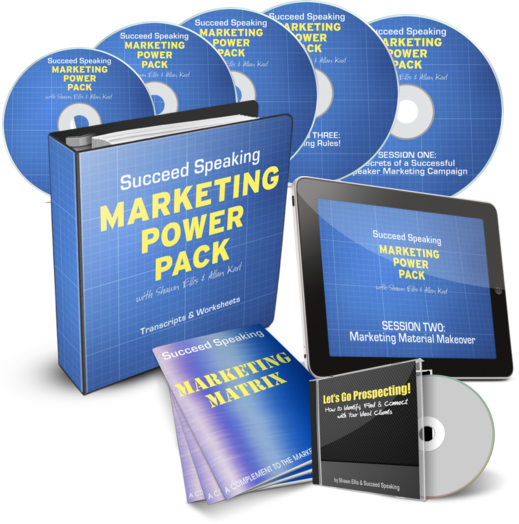 NOTE: The image above is for illustration purposes only. This is a digital product.
If you've got a feeling that your marketing materials or branding are holding you back in your speaking business, then for your own sake, please don't leave this page until you fully consider this offer.
After 13 years in the speaking business — working as an agent and manager for some of the world's best speakers — I know how important marketing is to a speaker's success.
I also know how challenging — and even intimidating — it can be for someone who is not a marketing professional and has no desire to be a marketing professional!
If you're like most speakers, you're at your best when you're creating and delivering content… not when you're creating and executing marketing campaigns!
That's why I asked Allan Karl, an inspirational speaker and an award-winning marketer with over 20 years of experience — he founded one of the top 50 digital advertising firms in the US — to join me in creating a business class marketing training program for speakers.
By that, I mean a program that would allow you to implement some of the same winning strategies used by the big brands you know and love — and that will help you rise to the top of the crowded field of speakers today!
The result was the six-session Succeed Speaking Summer Marketing Camp, held in the Summer of 2011, and I've got the full recordings — and more — for you right here.
This is a program like no other — giving you over eight hours of access to both a speaking industry veteran AND a marketing veteran who can help you market better and speak more… for less than a one-hour consultation with either of us!
That's right: You can have the full camp recordings plus some high-value bonuses for a total of $297… but better than that, you can put two-thirds of the program to the test (during the 21-day trial) for just $1.
Here's how it works:
I've set up a private members area where you'll get immediate streaming access to the first two sessions of our marketing camp, with the remaining sessions coming one per week over the next four weeks.
That means that during your 21-day trial, you'll be able to listen to the first four sessions — and download the corresponding worksheets — so you will have no doubt about whether this program is for you or not.
If you like it and see how implementing the strategies and tactics from the camp can transform your speaking business — and obviously I'm betting you will — then do nothing and you'll be billed for the balance of $296 and given access to the remainder of the program (with fully downloadable sessions, handouts and transcripts).
If for any reason the program is not a fit for you, though, you just email me (shawn-at-succeedspeaking.com) to cancel your order and you won't pay another cent… and you'll still have your worksheets and actionable ideas from the first four sessions!
Click here to get started:
[s2Member-PayPal-Button level="1″ ccaps="ssmc" desc="Member Access / Succeed Speaking Marketing Power Pack." ps="SS" lc="" cc="USD" dg="0″ ns="1″ custom="www.succeedspeaking.com" ta="1.00″ tp="21″ tt="D" ra="296.00″ rp="1″ rt="Y" rr="0″ rrt="" rra="1″ image="http://www.succeedspeaking.com/wp-content/uploads/get-started-red.png" output="button" /]
I know what it's like to run a small business where every dollar counts.
I know that you know you need marketing help, but with 101 different places you could spend money, how do you know where you will really get the return on investment that you need?
You can't afford to take a chance on yet another program that doesn't deliver. Right?
(I run a small business, too. I get it.)
First of all, I was an attendee of this marketing camp as much as I was a leader/facilitator, and I was wowed by Allan's insights and guidance… so for that reason alone, I can tell you that this program will be a tremendous help to you.
That's why I wanted to make it easy for you to experience the "Marketing Power Pack" for yourself — to make this a very low risk (is $1 a risk?) decision for you… so YOU can come to your own conclusion and decide that either (a) this program is worth at least 10 times the $297 investment or (b) it's just not for me… but I still got some good stuff for $1!
The best dollar you'll spend today…
You're going to met with multiple opportunities to spend money today.
How many of those opportunities are investments that have the potential of being able to put thousands of dollars back in your bank account?
Invest just $1 right now and I'll give you immediate streaming access to sessions one and two from our 2011 Summer Marketing Camp.
Those two sessions set the stage for everything that follows.
There are four more sessions to follow, and before your 21-day trial is up, you'll have experienced four of the six sessions — for nothing more than a dollar!
(And again, you can download the accompanying worksheets, too… so you're really working on your own speaking business each step of the way.)
Even if you don't continue beyond the trial period, you'll have some amazing new marketing power at your fingertips.
If you do continue through the full program, though — which opens up access to fully downloadable session files, transcripts, and bonus materials — then you'll have a marketing resource that can literally mean thousands of dollars to your business… for just $297.
Click here if you're ready to get started:
[s2Member-PayPal-Button level="1″ ccaps="ssmc" desc="Member Access / Succeed Speaking Marketing Power Pack." ps="SS" lc="" cc="USD" dg="0″ ns="1″ custom="www.succeedspeaking.com" ta="1.00″ tp="21″ tt="D" ra="296.00″ rp="1″ rt="Y" rr="0″ rrt="" rra="1″ image="http://www.succeedspeaking.com/wp-content/uploads/get-started-red.png" output="button" /]
Here's the full rundown of sessions:
SESSION ONE: Secrets of a Successful Speaker Marketing Campaign
After this session, you'll know:
Why most speaker marketing campaigns fail and 3 key ingredients to ensure yours doesn't
How Allan grabs the attention of biggest bureaus in the business… and gets them to book him (you can do it too!)
Why failing to plan for marketing is planning to fail — are you integrating your message and using all the tools available to you?
The FIRST thing meeting planners want from you is ______. Are you satisfying them?
How to leverage proven marketing tactics to identify, approach and WIN business from your target clients
SESSION TWO: Marketing Material Makeover
Watch this webcast and you'll:
Get a behind-the-scenes look at the the development and creation of Allan's winning marketing materials and how you can apply the same thinking to your business
Observe three speakers on the "Hot Seat" as we identify the good, the bad and the ugly in their marketing materials — see if you're making some of the same mistakes!
Discover the secrets to keeping your marketing materials out of your prospects' trash… and getting them to the top of their short list
SESSION THREE: Marketing Rules!
After this session you'll know:
The six laws of marketing that you MUST NOT break!
How to narrow your target market so you can locate and contact your ideal prospects
The 12 barriers to marketing success
The exact formulate for crafting a value statement that compels your target clients to hire you
SESSION FOUR: Magnetic Marketing
After this session you'll know:
What is "magnetic marketing"?
Why is it critical for you as a speaker?
Six keys to a magnetic marketing strategy
How to use "power words" to create your brand doctrine and reflect your appeal to your target clients(this is from Allan's $15k clearBRANDING workshop)
11 communication channels to spread your message
Seven ways to be recognized, remembered and recalled (keys to marketing success)
SESSION FIVE: The Art of the Campaign
After this session you'll know:
The #1 thing that will drive the success of your marketing campaign
Three essential elements to create consistency in your campaign
Three major markets that all speakers can pursue
Three types of campaigns — and how to decide which one(s) you should use
Eight tools you can use to advance your campaign
How to identify the marketing channels that are most appropriate for your campaign
SESSION SIX: Geeking Out!
After this session you'll know:
How to optimize your marketing initiatives by utilizing some of the 65+ top tech tools we've identified, in areas such as:

social media management
productivity
website analytics
website design
and more!
"Outstanding!"
It's important that you know that Allan and I are two real guys who are out there in the field every day — not two guys who spend all of our time in the lab cooking up new products.
We took time out of our busy schedules to create this program because we love marketing, we love to help speakers, and we recognized that there was a real need for some solid marketing training in the speaking community.
Over 13+ years in this business, I'm grateful to have been called "as honest and sincere a gentleman as a speaking coach can be," and staying true to that reputation, I can tell you with confidence that if you want to get better results from your marketing, you really need to check this out.
Here's what Mark, one of our camp attendees, had to say after the first session:
"Outstanding session! Three pages of notes after just listening once… Thank YOU!"
I guarantee this will be the best dollar you spend on your speaking business, and more than that, I'm betting that you'll find so much value here that you continue beyond the trial period to get the full Marketing Power Pack for just $297, which includes:
Over eight hours of training
Over 180 pages of session transcripts
Over 15 pages of handouts/worksheets to help you TAKE ACTION!
NOTE: You'll have online access to the private members area for one year, but everything is downloadable (after the trial period ends) so it will be yours forever!
And I'm also including several bonus items in this "Marketing Power Pack" to make sure you're ready to market better and speak more, including:
"Let's Go Prospecting" — a 90-minute audio training (MP3) from my BuildMySpeakingBiz Boot Camp to help you find and pursue speaking leads immediately!
Creative/Strategy Brief — a guide (PDF) to help you build your marketing campaign and all of your marketing materials
Marketing Matrix — a go-to reference (PDF) for the multi-channel, "touchpoint" marketing we advocate
Brand Audit — a self-directed audit exercise (PDF) that you can refer to time and time again to be sure you're staying consistent with your image and messaging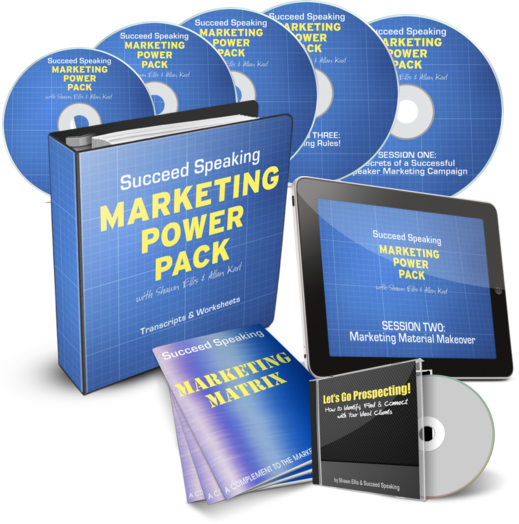 Ready to get started?
There's nothing more I can say, really…
If you're serious about your speaking business and you recognize that marketing is an area where you have room to improve, click below to get immediate streaming access to the first two sessions and put this program to the test.
If you see the value in these sessions, do nothing and you'll be billed for the balance of $296, granting you access to download all of the materials so you can come back to them again and again.
If for any reason the sessions aren't a fit for you, just notify me via email within the 21-day trial period and you won't pay another penny.
Can you and your business afford not to try the Marketing Power Pack?
Get started now:
[s2Member-PayPal-Button level="1″ ccaps="ssmc" desc="Member Access / Succeed Speaking Marketing Power Pack." ps="SS" lc="" cc="USD" dg="0″ ns="1″ custom="www.succeedspeaking.com" ta="1.00″ tp="21″ tt="D" ra="296.00″ rp="1″ rt="Y" rr="0″ rrt="" rra="1″ image="http://www.succeedspeaking.com/wp-content/uploads/get-started-red.png" output="button" /]