The Millionaire Messenger by Brendon Burchard – Get Your Copy Now (while it's free!)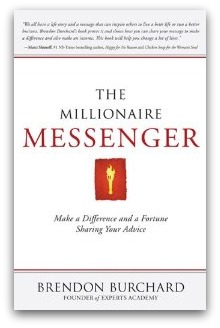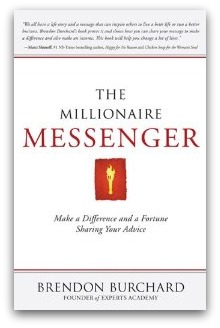 If you've followed me and Succeed Speaking for any length of time, you know I'm a big believer in Brendon Burchard. I was first introduced to him by Jack Canfield's team, and wow, this guy knows his stuff.
Brendon started out as a simple guy with a great message, and he turned his advice and life experience into a brand that changes millions of people's lives. Because of his success, he created Experts Academy, which is a comprehensive program that trains other authors, speakers, seminar leaders and online marketers how they can follow his same model.
The only problem with Experts Academy is that it costs $2,000-5,000 to enroll. That's not a problem in terms of value, but obviously it's a significant investment and an obstacle for a lot of people. So… Brendon wrote The Millionaire Messenger, taking many of his best lessons from Experts Academy, as well as his own multi-million dollar strategies for sharing his message — all in one affordable book.
The book isn't just affordable, though… it's FREE for a limited time! Grab your copy here (you just have to pay shipping).
Why is Brendon giving the book away for free? Simple. To get some early reviews on Amazon.com, build buzz, and if all goes well, have a New York Times Bestseller right out of the gate. Pretty smart, huh? Win-win for everyone.
Even if you don't buy the book, there are plenty of lessons to be learned just by studying how Brendon has set up his launch strategy. Enjoy!
DISCLAIMER: The book is free (except shipping and handling) and I make nothing from it, but I am an affiliate for Brendon's other materials, so if you end up buying something from him in the future, I may be paid a commission. Just want to be fully transparent about that.