How to Write a Bestseller – 10 Lessons Learned from Jack Canfield and Steve Harrison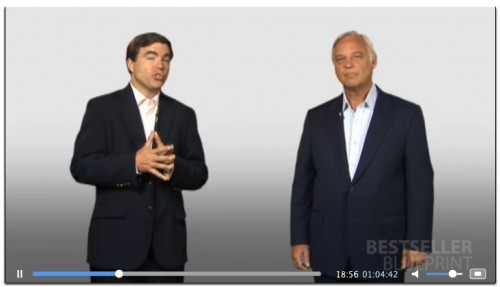 It's no secret that a good book can help you achieve greater success as a speaker. When you write a book, you're automatically seen as an expert — especially when you're being compared to "Speaker B" who doesn't have a book on the topic.
You might overhear something like this from the event planning committee, during the speaker selection process:
Committee Member #1: "Well, they both look pretty good."
Committee Member #2: "Yep. I think it comes down to the fact that Bob speaks on leadership, but Bill speaks on leadership and wrote the book on leadership."
Now if you want to really tilt things in your favor, imagine if your book becomes a bestseller — especially a New York Times or Wall Street Journal or Business Week Bestseller. Then the planning session might sound like this:
Committee Member #1: "Well, they both look pretty good. They both have books on leadership."
Committee Member #2: "True. But Sue's book was #7 on the New York Times Bestseller List."
When you can say you're the "author of the best-selling book on _____," that's just one more arrow in your quiver.
Now, how do you do it? That's the question! (Obviously.)
A better question, though, is how did they do it? (By they, I mean the other best-selling authors who have gone before you.)
There's not one just one formula to create a bestseller, but you can always learn something from other best-selling authors, and you pick-and-choose from their strategies to create one that works for you.
That's why I promote* the new (updated for 2015) Bestseller Blueprint Training (affiliate link) video series from Jack Canfield (Chicken Soup for the Soul, The Success Principles) and Steve Harrison (publicity guru – with clients including Jack Canfield).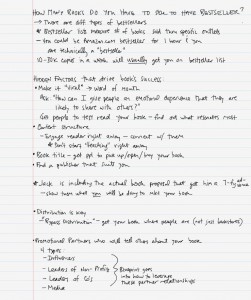 I just watched the first video myself, and I'll even give you my handwritten notes if you want them. There are some great lessons in there, and even some simple reminders that are so simple we can easily overlook them when we're trying to create something "cool and innovative" — never forget the basics!
Before I give you my four pages of notes, here are 10 of the key takeaways for me:
A bestseller is about much more than simply writing a great book.
You need to have a bestseller mindset – think big.
Have a plan from day one – before you put one word on the page.
Realize that successful authors make most of their money from sources other than the book. (Jack and Steve go through 10 sources of "hidden income" for authors in the first Bestseller Blueprint training video.)
You usually need to sell 10,000-30,000 copies of your book in a week to land on one of the major bestseller lists.
To do that, you must have promotional partners who will tell others about your book — and you need to start building those relationships now, not when the book is published!
At least 80% of your book's success will depend on you, not your publisher. (Actually, I learned that from Reid Tracy, President & CEO of Hay House Publishing — but Jack and Steve are clearly making the same point in this video.)
The title of your book matters — that's what will get people to pick up and open your book.
The content structure matters — you want to open with your best material to engage and connect with the reader immediately, so they say, "Yes, this book is for me! I have to buy it/read it!" and then you want to close with your second-best material to leave them feeling, "That was an awesome book! I've gotta tell Jill/Joe/Sue/Tom/everybody about it!"
Commit to a daily discipline of doing at least one little thing each day to move you toward creating a successful book. Everyone is busy and overwhelmed, but we can all do one little thing… if we're committed to the goal.
There's a lot more good material in this first video, so I encourage you to watch for yourself — and grab my 4 pages of notes here to learn:
9 ways to profit from your book
4 hidden factors that drive a book's success
How many books you have to sell to achieve bestseller status
And more!
I look forward to seeing your book on the bestseller list(s) in the future!
*I am an affiliate for the Bestseller Blueprint training program, which means that if you click one of the links above and then choose to enroll in the paid program, I may be paid a commission. There is no fee for the free videos, and I'm not compensated for sharing those with you. This just happens to be a program I believe in, and I only share programs I believe in. Naturally, you should do your own due diligence before making any purchase, online or offline.