How Can Professional Speakers Use QR Codes?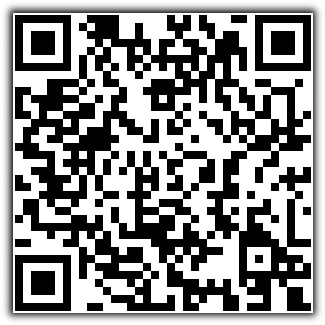 Chances are, you've seen one of those funny-looking boxes by now (like the one on the right). What the heck is it? Do you have one of your own? Do you need one? It's time for some answers, starting with…
Yes, in my opinion, you need one.
But let's back up.
First of all, it's called a Quick Response (QR) code, and by Mashable's definition, it's "a two-dimensional code that can be scanned by smartphone cameras to automatically pull up text, photos, videos, music and URLs."
They're already everywhere in Japan (or so I hear), and while they've been a little slower to catch on in America, "the question isn't whether the codes will reach the level of ubiquity found in Japan; rather, it's how quickly will they be a part of every day life, like reading a URL address." (Inc.)
As a speaker, here's how I see it: These codes can give people fast access to you and your materials and the easier you make it for them to get to you, the more you stand out from other speakers and the better your chances of getting a shot at business (whether you're talking about getting a booking, selling products, or anything else).
What might you link up to a QR code? Here are some ideas:
Your phone number (think "call me now")
Your Facebook page
Your E-newsletter sign-up form
Your demo video
A free ebook or special report (EXAMPLE: the QR code above gives you instant access to an ebook compilation of Succeed Speaking's "best of" for 2010 – you'll need a barcode scanner app like this one)
Your website (kind of boring, but it's something)
A testimonial page where your event attendees could leave instant feedback
Two things to keep in mind: 1) People will be (usually) following your QR code from a mobile device, so don't send them to something that just won't work on a phone. 2) Like anytime you're asking someone to take action, remember to ask: What's in it for them? Why would they want to do this?
Now, the next question is, where would you put one of these codes? How about…
On your business card
On your handouts at events (great place to link to your newsletter sign-up page OR a "bonus" report that is a follow-up on "what we just talked about today")
On your promo materials (specifically, one-sheets/brochures — how about a link to "Watch my video now!")
On your book jacket (for bonus chapters and such)
On anything else that's printed (or even your website)!
Are you still with me? If so, think about what you want to link to and go get your code right now (it's free):
I recommend either Kaywa's QR code generator or this one built on Google Apps for simplicity — you just put in your destination link, choose the size you want, and out pops your code — or for a more elaborate solution, look at iCandy which calls itself "the desktop publishing of QR codes."
Any questions? Want to share your own QR code experience? Let's hear from you in the comments below!
Need some help integrating QR codes into your marketing plans for 2011? We can help with that.